This week we will be making a fun sweet treat, The Pronut. The Pronut is a donut with… yep you guessed it protein. The recipe is fairly simple and the macros are great on it. For more info you can check out @BakingGainZ on Instagram. Let's get started
Ing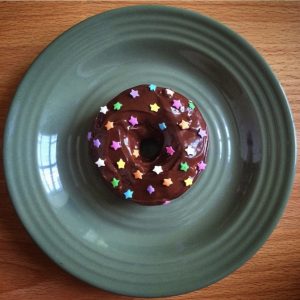 redients:
¼ cup Coconut Flour
2 teaspoons baking powder
½ teaspoon salt
1 Cup of your favorite protein powered
( I prefer a vanilla or chocolate whey. If you use a plant based powder it may come out grainy).
½ cup coconut oil
6 large eggs
1 tablespoon Vanilla 
½ cup Agave or Honey
Makes 1 dozen(12) Pronuts.
First off to make the donuts you will need at least 2 donut pans of the same size. Be sure to use a good cooking spray/ oil to line the pan.
Preheat oven to 350 degrees. While oven is preheating mix all ingredients thoroughly in a large mixing bowl. I use a mixer. You want a smooth consistency. For best results heat up the coconut oil first and pour in while still warm to prevent clumping.
Next pour the mix into the donut pan, leave about a finger tip of space at the top of each mold. After you fill one pan, securely place the other pan on top of it upside down. This will help with flipping the donuts and getting a more even bake on both sides. Slide the pans into the over.
Bake donuts for 7min, after seven minute carefully grab both pans from the over and flip it. So that the top pan is now the bottom pan. Bake for another 7 minutes. Then remove from oven and let cool for 5min.
And There you have it! A fun healthy treat, that taste like a cheat!